Dual Layer Sweat Removal System
MOISTURE IS THE ENEMY
Moisture is the enemy of comfortable, healthy feet, because it creates a host of problems. In hot weather sweat is the biggest cause of blisters and fuels the growth of odor-causing bacteria as well as the uncomfortable fungal skin condition known as Athlete's Foot. In cold/freezing weather, moisture pulls heat away from skin 23 times faster than air, reducing the temperature so rapidly that wet feet become painfully cold and much more susceptible to frostbite.

SHOES TRAP HEAT & MOISTURE
The inside of most shoes is hot & wet like a greenhouse and relatively speaking, little evaporation can take place inside most shoes.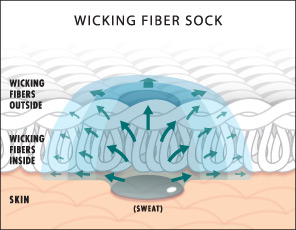 YOU CANíT ESCAPE THE LAWS OF PHYSICS
The laws of physics dictate that no single fiber technology can attract and repel moisture at the same time. Other socks use only wicking fibers which attract moisture and hold it next to the skin, keeping feet wet.

Dryness Only 2 Layers Can Provide
Drymax socks keep feet dry because their Moisture Removal System uses two different fiber technologies interwoven into a dual-layer sock. This construction technique guarantees your feet stay dry and comfortable in cold, hot, and even wet conditions.


On the molecular level, moisture doesnít stick to the inner (super hydrophobic) Drymax fiber terry loops. This allows the Drymax terry loops (43,200 per square inch) to squeegee sweat off the skin into the outer (hydrophilic) moisture attracting fiber layer.
A SELF CONTAINED SYSTEM

Because you cannot depend on your footwear for help, we designed a self contained Dual Layer Sweat Removal System into all Drymax socks. Our Sweat Removal System works so well we guarantee Drymax Socks will keep feet dry in all types of footwear. Other socks canít keep feet dry because they must rely on shoe linings and the slow - inefficient process of wicking & evaporation to take place.



DRYING TIME IS IMPORTANT


You canít stop during a marathon or tennis match to allow your socks time to dry out. Drymax socks need no drying time; they dry at the speed of sweat. What you wear on your feet makes a huge difference for comfort and performance. Choose your socks wisely, your feet depend on it.